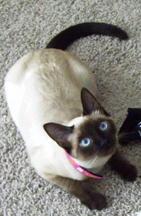 Belle
Nestled deep in the piney woods of East Texas near Lufkin, Texas, Cupid's Pride Cattery raises some of the most BEAUTIFUL, HEALTHIEST, and BEST TEMPERED Traditional (Applehead) Siamese cats that can be found in the state. Founded in 1988, Carl and Patty Bridges' Cupid's Pride Cattery has "prided" itself in offering these magnificent kittens from their excellent bloodlines topped by many years of careful, selective breeding from some of the top bloodlines around. Bloodlines stemming from Cupid's Beau, a twenty-two pound stud, gained respect from anyone who ever had the opportunity to meet him. After living to the ripe age of nineteen, his grandson took up his place in the ranks. Cupid's Beau Kizer, age twelve, weighs in at a nice "traditional" size of twenty-nine pounds. Even though this big guy is a seal point, all pointed colors are offered at the cattery, including the rare Lilac Point. Occasionally lynx point kittens are also born. Several of "Kizer's" grandsons are also used selectively, alternating in the breeding program with the four standing queens at the cattery. These queens are also of magnificent breeding in their own right. Their approximate weight ranges from twelve to fifteen pounds. Also these parents of the kittens are shown at cat shows from time to time.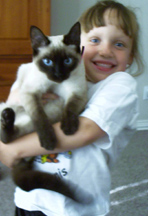 Belle and friend
(Frisco, Texas)

The kittens are offered for sale at the age of eight weeks. A kitten NEVER leaves the cattery to go to a new home until it has had the initial blood work drawn and documented by a licensed veterinarian, as well as the initial wormings, parasite treatments, and the first round of shots, ALL included in the total price of the kitten and done by a licensed vet. All kittens are also fully litter trained by the time they leave the cattery to go to their new home. Also your new kitten comes with EVERYTHING you need to get started with your new baby! This not only includes the nutritional foods, but also all-natural clay litter, baby blankets and a safety collar. We recommend Eukanuba as well as the Nature's Best kitten formula by Science Diet.
To insure the "purrrfect" kitten of your choosing, a small deposit is required at the time the kittens are offered and you have chosen the kitten that will fit into your family and lifestyle. If for some reason you change your mind after the deposit is made and you back out on the purchase of the kitten, deposits are NONREFUNDABLE, but may be applied to another litter at a later date.
The price of the kittens, including the above, is $300.00. If the new owner chooses to purchase two (2) kittens at the same time, a DISCOUNT is provided on the second kitten. Checks are not accepted, but we will gladly accept money orders, but prefer cash. A receipt is given to you along with a full health agreement from our veterinarian as well as the breeders.
Breeding and show rights ARE NOT given to new owners, and a SPAY and/or NEUTER AGREEMENT is signed by the new owner at the time of the sale. Kittens are REQUIRED to be permanently sterilized by a vet of the new owner's choice at the new owner's expense. It is also required that the new owner complete the kitten's shots in a timely manner at the kitten's age of 10, 12, and 16 weeks of age. This is also to be signed and agreed upon by the new owner.
Even though Cupid's Pride Cattery is a small, country cattery, you need look no further for that large, robust Applehead Siamese you have always longed for. They are also the best, most loving companion for your child or grandchild that you could ever ask for in a kitten. Also at Cupid's Pride Cattery, the HEALTH of your new kitten is and always has been the first and foremost concern of ours to insure that you will share many years ahead with that "purrfect" new member of your family. Guests and potential new clients are more than welcome to come and view our cattery by appointment. We think that you will find the quiet east Texas country atmosphere of our small country cattery has all the charm and the most beautiful, healthiest kittens that you could ever find in the larger cities. Enjoy the ride and come see our quiet country cattery. You will be glad you did, and it will certainly be a worthwhile trip!

Cupid's Beau
Cupid's Pride Cattery
Lufkin, Texas
Home Phone: 936-634-9398
Patty's Cell #: 936-465-7196
Carl's Cell #: 936-238-6632
Copyright © 2003-2016 Cupid's Pride Cattery. All rights reserved. All photographs are the property of the photographer and are used with permission. Enjoy the photographs on our site but please do not download, copy or re-use them. Thank you.